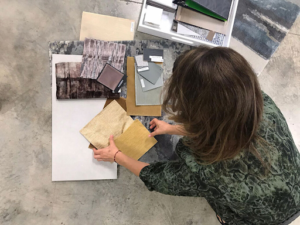 Ready for the help of an interior designer and not sure how the process works? If you are about to undergo a home build or a renovation, want a new kitchen or even just a living room refresh, you might find that there is a lot more planning involved than you might have thought. It can be hard to know where to start.
Our experts at Cheltenham Rd have all the advice you need.
What service do interior designers offer and when
Interior designers focus on implementing your aesthetic and spatial vision. We aim to make the decision making and planning process as easy and enjoyable as possible for clients. The spatial areas we work with are all interior spaces to set a mood and maximise utility and function by creating new designs or remodelling old ones.
The spaces interior designers create sit in between interior decorators and architects. Our role is sometimes confused with interior decoration, the primary focus of which is the aesthetic decoration of spaces. Architecture is also a different role, spending more time working with the structure and exterior of buildings.
If you need someone creative, technically knowledgeable, with skills in project planning and awareness of the products your home needs, you might want the help of an interior designer. We will support you to create the perfect interior for your home, helping prevent you from getting overwhelmed by the vast but necessary amount of decision-making.
If you are renovating, need to replace a tired kitchen or bathroom, or require a new colour scheme and need to work out what you want your interior to look like, it's time to contact an interior designer. In addition, If you are building a new home, you will need an interior designer for when it's time to work on the interior of your space as there are even more decisions to make.
Ready to find the perfect interior designer for you? Get in touch with us at Cheltenham Rd today.

The process of interior design
1. Consultation
The first thing an interior designer will discuss with you is how you want your space to look in terms of the look and feel or the 'mood' you wish to create. Take a look at magazines and Pinterest. The more you discuss this, the easier it will be for your designer to understand your taste and move forward with the best possible design for your interior.
You will receive an initial consultation fee. There will be service costs for the time your interior designer spends on your project throughout the process. Rates will depend on the scale of the project.
During the consultation, you and your designer will discuss the scope or size of the project and what you wish to achieve. Your lifestyle and needs, coupled with your likes and dislikes, will give your designer an understanding of your unique design style.
2. Style Questionnaire
At Cheltenham Rd, we will ask you to fill out a questionnaire to highlight for us a more in-depth picture of your style. This process is helpful for any client regardless of how clear you are about what you want but is especially useful if you are unsure how you want your space to look. Our clients find it is helpful because it gives them more time to consider the answers to questions we may ask them.
3. Creating a Design Concept
This point is where your designer creates the concept for your interior space. First, we will present you with a design statement and a detailed mood/concept board. This part of the process is really important because it underpins the rest of the project going forward.
4. Design  Stage
This stage takes up the majority of an interior designer's workload. We will create all the documents you need to implement the design, including floor plans, elevations, 3D renders, product boards, and product specifications schedules. We will also provide you with product samples to consider. This stage can include visits to showrooms and suppliers.
5. Sourcing the Materials
Now is the time to collaborate with your designer on which items you want to purchase for your space. Your interior designer will take you far beyond square one, providing insider recommendations about brands and manufacturers to ensure that you get the best quality products and unique pieces, with the added advantage of sharing trade discounts wherever possible. We can also help design custom pieces to make your space individual and special to you.
When your shopping list is ready, you don't have to worry about managing orders. Your designer can place your orders, liaise with manufacturers, track order status and manage all of the logistics for you.
6. Creating the final product
Now we arrive at the most satisfying part of the process. Your designer can receive all the deliveries you need to implement the design. We will also engage trades such as painters, builders, tilers, electricians, plumbers, or architects to ensure everything gets put together seamlessly.
It can be a lot of fun to take a hands-off approach at this stage, leaving the space entirely up to your designer to install and style. Then, you can come home to the perfect, polished interior that you worked so hard for.
Conclusion
Working with an interior designer adds value to your home and overall enjoyment of the process. If that sounds like the experience you want, arrange a consultation with Cheltenham Rd today to get started.