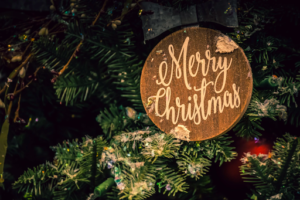 Need help decorating your home this Christmas? Show the magic of the festive season with the help of our interior designers at Cheltenham Rd.
We are here to help take the stress off your shoulders and make Christmas decorating as merry as can be. Read on to find out our top tips for how you can deck your halls with style.
The key components of Christmas decorations
Before you get started on a theme, there are a few things you should consider. Firstly, how much space do you have? If you have a small home and plan to have people over, you will need to find a small tree to fit your space. Be mindful of where you place any fragile decorations so they don't get knocked by guests. In addition to small space considerations, your ceiling stud will also determine the best size tree. Villas and bungalows often require taller, more substantial trees to ensure they look good and fit the space.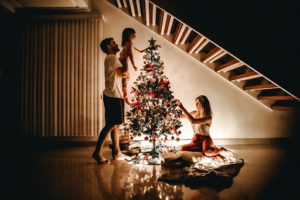 Having a Christmas tree is a surefire way of bringing the festivities into your home. Unless you get allergies, we recommend you find a real pine tree – Firs, a Spruce or a Pine are better for the environment than plastic trees and make your home smell amazing.
Aside from your tree, the front door, mantelpiece, and stairs are easy key areas to decorate. Hang a wreath on your front door to make your guests feel like they're joining the fun. In place of dated tinsel, hang garlands of real foliage on your staircase banisters. Arrange festive ornaments such as little Santas, stars, reindeer or nativity scenes on your mantelpiece, dining or coffee table.
Themes are everything
You might be thinking – isn't Christmas already a theme? But if you don't know where to start, paring back your options can make it far easier. Having a running theme among your Christmas decorations will automatically tie together your design and make it harmonious.
While you want your space to look gorgeous, you also want your decorations to be practical. Try to have a lighter touch in areas you use more, such as the middle of your living room and kitchen.
When it comes to choosing a theme, we encourage you to follow your heart. Don't just follow popular trends if they don't feel right. What feels most like Christmas to you? Whatever your answer – whether that be family, a tree, Santa Claus, or decorations themselves – we can help you bring your unique festive feeling to life in your home.
Here are some of our theme ideas to get you started.
Classic and cheerful
Traditional Christmas with its whimsical decor never gets old. Accent your evergreen Christmas tree with silver, white, and red baubles, hang stockings on your fireplace (or windowsill) and decorate key areas with gorgeous green garlands and wreaths. Ensure you stick to one colour theme throughout your home each year for cohesive classiness.
Our team at Cheltenham Rd. recommends that to really make your home merge with the theme, you can, for example add more red tones to your decor, with throws, tablecloths, and cushions.
You can bring a tasteful Kiwi spin to the classic theme with bowls of cherries and pohutukawa flowers. Or invest in some Christmas candles and lanterns or crockery, glasses and tableware.
Go rustic
For anyone who loves minimalist cosiness, the rustic style is the way to go. Take a leaf (pardon the pun) from the handmade and natural ideas (see image below) for your tree decorations. This theme can also help with the decoration budget. You could also collect simple wire ornaments, geometric candle holders, and wooden or paper ornaments such as stars, trees  and baubles. Or invest in a wooden advent calendar that you fill with beautiful objects and yummy treats.
Cool-toned foliage and wood colours will help your decorations feel less heavy. Bring a little cosiness into the space with small, single coloured fairy lights.
Gleam with gold and silver
Red and green can look a bit garish in some homes. With a metallic colour scheme comes the benefit of versatility: you can go for glam, modern or traditional depending on how you use it. Gold-and-silver maintains a true Christmas spirit by bringing a cheerful sparkle to your home while maintaining a more muted, contemporary pallet.
Adorn your tree with gorgeous baubles, stars, and snowflakes, wrap your presents in silver paper and pretty ribbons and bows and make your space glitter with soft Christmas lights.
Handmade and natural
Using your DIY skills to make your own natural Christmas decorations can be a wonderful opportunity to reduce waste during the holiday season and get the kids involved.
Nature-oriented and eco-friendly decor brings a lovely minimalist style and can also make your home smell great!
Twigs, drift wood, pine cones, leaves and dried orange slices make beautiful decorations. You can also make garlands and wreaths out of real plant sprigs, and either buy or make pieces out of clay.
Invest in quality
Buying Christmas decorations can be very expensive. One suggestion we have is to invest in quality pieces slowly over time. Make it a day out for the kids, where every year they can buy one special, pretty bauble as a treat. This way you will slowly build up your collection and the kids will love that they have contributed to the process.
Your Christmas decorations sorted
Our team of interior design experts at Cheltenham Rd. loves to share our decorating tips, especially at Christmas! Decorating for the holiday season means you get to bring the festive cheer into your home and discover how your vision of Christmas can come to life.
If you want to know more about how Cheltenham Rd. can elevate your home, get in touch with us today!