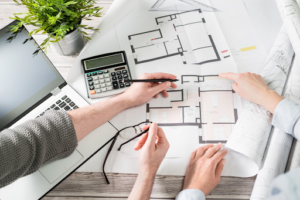 Whether you're embarking on a renovation, extension, new build, or redecoration project, you might be wondering whether to engage an interior designer. Is it worth introducing an extra pair of eyes when you already know how you want your home to look?
Interior designers are often mistaken for interior decorators, which sometimes gives people an inaccurate understanding of interior design services. If you know how you want your interior to look, that's a great start, but interior designers can offer so much more than just decoration advice.
To help you decide whether you need an interior designer for your project, we created this article to give you more knowledge about what interior designers offer.
Interior design defined
First things first, interior designers and interior decorators are different roles. Whereas interior decorators focus on the surface-level aesthetics of a space, interior designers hold a more thorough understanding of the ins and outs of building design, industry trends, and how to perfect and maximise the use of space to fit your needs.
The best interior designers are qualified, so you can trust that we are university-educated, experienced and knowledgeable. We are skilled at planning, adapting, and understanding our client's needs and making your dreams a reality. A massive amount of decision-making, liaison, and organisation is necessary for the interior design process. The professionals are here at Cheltenham Rd. to make this work easier for you.
Costs
Working with a professional allows you to use our expertise and industry experience, which will actually save you money. The service fee pays for itself when you receive advice on high-quality, long-lasting, fit for purpose products. Your interior designer can prevent any financial disasters, such as buying a sofa that's too big for the space or buying a rug that's too small.
Interior designers don't just prevent you from making a financial mistake. Your interior designer will optimise the use of space in your home. If you wish, we can project manage trades and handle the procurement of all the fixtures and fittings on your behalf.  We can make purchases from our trusted suppliers, and we can style your home. The help of someone with this type of experience, someone who knows what they are doing, will alleviate stress, save you time and money, and make the whole process fun and exciting.
Vision and Planning
The best interior designers have excellent spatial awareness. We can picture your dream space and make it happen. We help clients envision the aesthetics by creating concepts and mood boards. We optimise spatial planning using floorplans and elevations. We can even build 3D-rendered images to help you imagine the spaces and document the details of custom-designed items.
From the beginning, your interior designer will be planning the best layout of your space and how to make the space fit with who you are,  whatever your design goals might be.
Adaptability and Expertise
Interior designers will listen to your requirements. Whether you are designing a kitchen or bathroom in your family home, making the most of your small apartment space, or creating a luxurious look and feel for a modern renovation, we will be flexible,  adapt our approach, and apply our knowledge perfectly to every project.
If you dare to dream, all ideas are possible, an interior designer will implement them, and if not, we will find another option that you might just like better.
Consulting and liaising
Interior designers know the right questions when consulting with contractors, trades, stakeholders, and builders involved with the project. Coordination with many different professionals like plumbers, electricians, and painters, is carried out by your interior designer to ensure the results meet the design concepts created.
All of this gets implemented for you while keeping you in the conversation. Interior designers act on your behalf; we are your advocate.
Balancing details and the big picture
The biggest strength of designers is our ability to understand how small parts make up a cohesive whole in any given design project. Interior designers help clients make big decisions such as internal and external colour schemes. Additionally, we assist with a myriad of small decisions such as choosing furnishings, light fixtures, soft and hard materials decor, and all the finishing touches, even the exact height you should position your toilet roll holder!
After helping you make these decisions, your interior designer will place your orders for you, ensuring that you get the best price for high-quality products. Every little bit counts. Every decision matters to help increase the enjoyment and liveability of your space.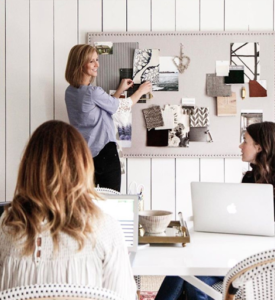 Summary
Interior designers function as aesthetic advisors, accountants, planners, assistants, client advocates and sometimes project managers, all in one role. Our exceptional administrative skills ultimately save you time and money. We achieve this by balancing your vision with what is practical in terms of safety, liveability, and affordability and what is beautiful interior design. We ensure open communication is always taking place with you and with contractors and we always seek to listen and understand.
Decisions that seem small make a difference in the big picture. Interior designers are hyper-aware of all the little details, so we strive to perfect your space and create procure your dream home.
At Cheltenham Rd, our designers stand out. With our corporate and project management backgrounds, our planning abilities and organisational skills are exceptional. Contact us today to find out more.