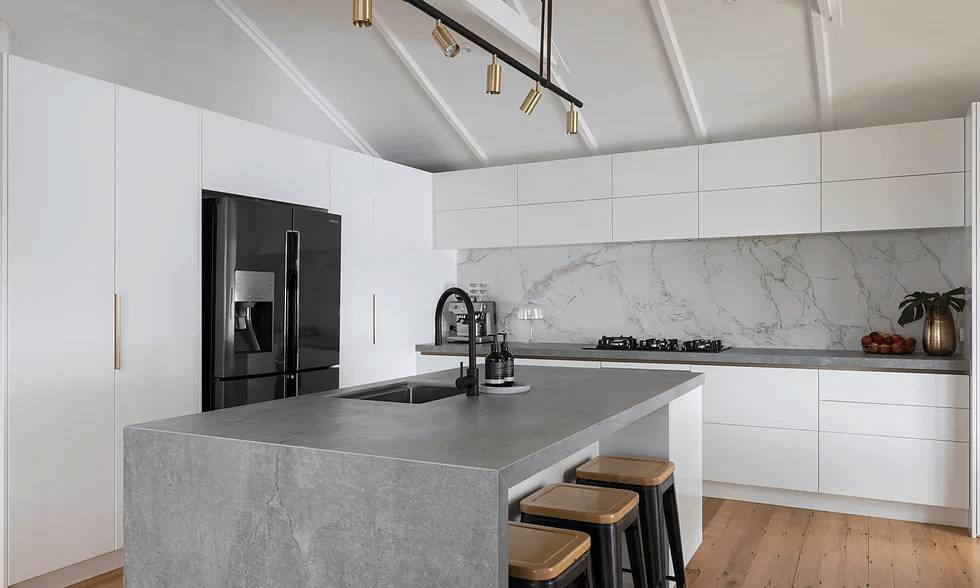 Stylish Family Kitchen
Cheltenham Rd. was engaged to consult on the design of a kitchen for an active family of five.
The desired style for the new kitchen was contemporary, timeless, light and spacious, sophisticated yet not ostentatious. It needed to blend in with the current dining and family room colour palates of greys, pops of black, tan, beige and mustard and the original wooden floors.
The new kitchen colour palette of concrete greys, crisp white and pops of brushed brass, black and tan works well with the original overall style guidelines. But the big turning point for this family was the decision to go with the indestructible, and oh so teenage boy-friendly, Dekton 'Soke' marbled concrete stone benchtops which throws brown tones under the grey, and the AGB Stone 'Entzo' splashback that works perfectly behind the hob and provides a sophisticated and stylish focal point.
With this new direction, it meant that we could also incorporate a fabulous leather and brass, pendant bar light by Rubn a premium Swedish lighting company, that the client had fallen in love with on a girls' weekend in Melbourne.
The end result is a family-friendly, sophisticated environment that is inviting, stylish yet relaxed and homely.